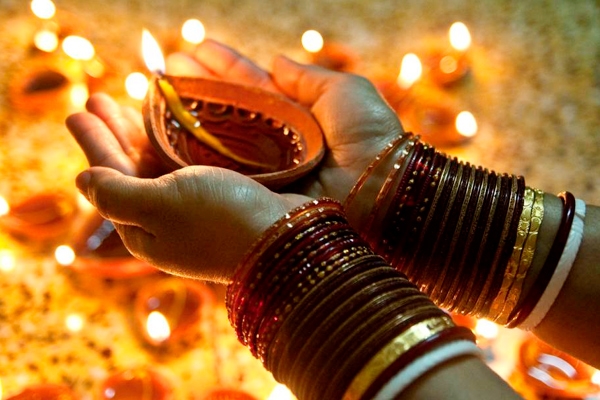 Diwali or Dipawali is one of the biggest festival of Hindus. The festival is celebrated with great enthusiasm and happiness for five days. The third day is celebrated as the main Diwali festival or Dipawali–the festival of lights. The festival is celebrated on the 15th day of Kartika month of the Hindu calendar.
People light up candles and diyas all around their house on this auspicious day. This ceremony was observed by the inhabitants of Ayodhya while Lord Rama was away from his kingdom, in exile. The joyful day on which Lord Rama returned is observed as Diwali, or Dipavali.
Dhanteras: The first day of Diwali is called Dhanteras or Dhanvantari Trayodasi. It falls on the auspicious 13th lunar day of Krishna Paksha of the Hindu month of Kartik. This day marks the beginning of Diwali celebrations. New 'Dhan' or some form of precious metal is a sign of good luck and Hindus consider it auspicious to purchase gold or silver or new utensils on this auspicious day.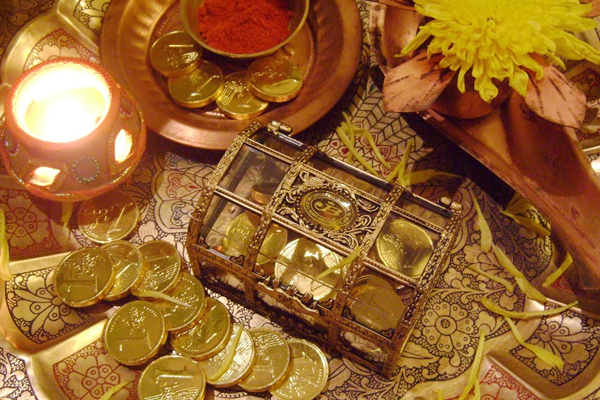 Naraka Chaturdasi: The day before Diwali is celebrated as Narak Chaturdasi or 'small Diwali'/ Chhoti Diwali. It is the fourteenth lunar day of the dark fortnight of the month of Kartika and the eve of Diwali. Lord Krishna destroyed the demon Narakasura and liberated the 16,000 princesses which the demon held captive. On this day, the celebrations involve a ritual puja to Goddess Lakshmi and also to Rama in the evening.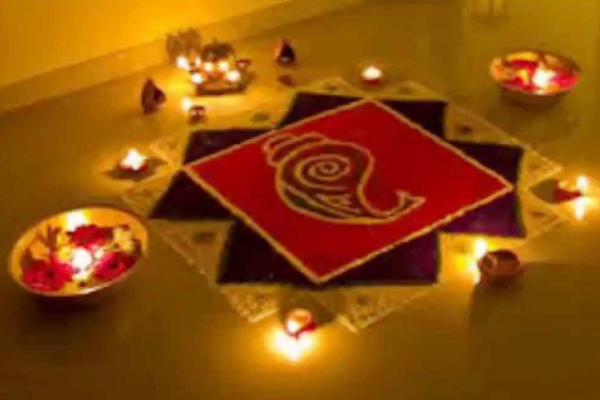 Lakshmi-puja (actual Diwali): The third day of the five day festival is celebrated as the Diwali, the Hindu New Year. It falls on the dark night of Amavasya. The day is entirely devoted to the propitiation of Goddess Lakshmi. People performed Lakshmi-puja with their families and relatives and worship the divine Goddess Lakshmi to achieve the blessings of wealth and prosperity.
Goddess Lakshmi likes cleanliness, and she will visit the cleanest house first, so it is extremely important to keep the house spotlessly clean and pure on this day.  People lit lamps in the evening to welcome the goddess. This is also the day on which Lord Rama returned to Ayodhya, after successfully defeated the demon, Ravana and rescued Sita.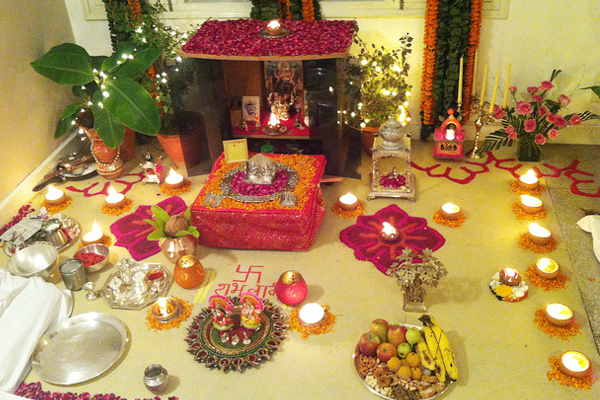 Padwa & Govardhan Puja: The day following the Amavasya is Padwa. On this day, Govardhana Puja is performed. This festival is in commemoration of the lifting of Mount Govardhan by Lord Krishna. He lifted Mount Govardhan with his finger and sheltered men and beasts from the heavy rain.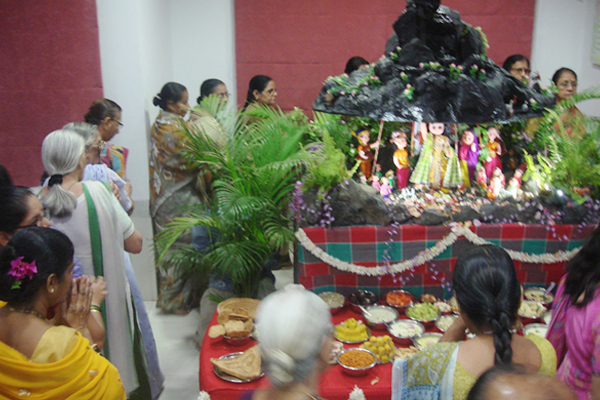 Bhai Dooj: The fifth or the last day of diwali is Bhaiya Dooj. It is a day dedicated to sisters. It falls on the second day after the new moon. It is a day to pray for the long life of the brother. It is believed that, when a sister puts a tilak on her brother's forehead on the dooj day, then no one can harm her brother.  Sisters perform puja for their brothers safety and well being on this day.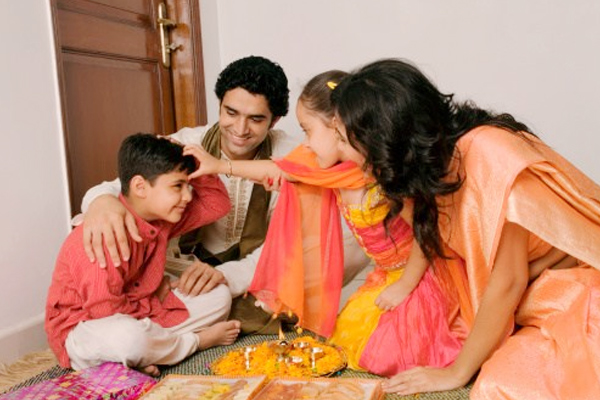 Nandini