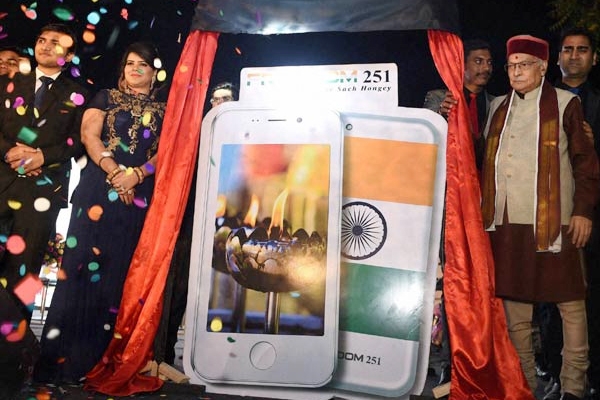 (Image source from: Why Freedom 251 is Aam Aadmi's iPhone? })
For few main reasons, 'Freedom 251' is earning a tag of an 'iPhone' for Aam Aadmi. It is the cheapest smartphone in the world and is a full-fledge working device for Rs 251 with additional delivery charge of Rs 40.  Here are few things which earned prominence for the phone as Aam Aadmi's iPhone.
•    The Freedom 251's design is inspired by iPhones.
•    The fact is that many domestic companies have launched smartphones like iphones even in the past.
•    The round home button of iPhones is trademark and the same button even dominates the Freedom 251 design. Similar home button can be found even at cente of the world's cheapest phone.
•    It is evident that rear design of Freedom 251 is an inspiration from iPhone 5C.
•    The shape of the Freedom 251 phone is similar to the shape of the iPhone 6 series. More ever, even the speaker grills look like an exact copy.
•    Oh! the icons of Freedom 251 is an almost identical version. You might actually forget that the one in hand is an Android Lollipop smartphone.
•    Even the icon of the native browser is an exact copy of Safari browser of Apple.
-Sumana