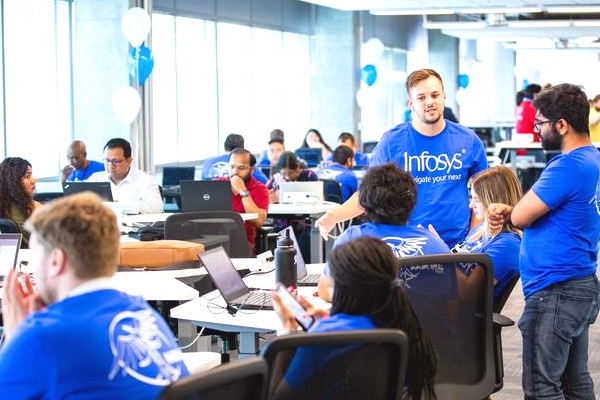 (Image source from: The Business Journals)
Indian multinational Information Technology (IT) consulting company Infosys has set up a technology and innovation center in Arizona State University, with an aim to employ 1,000 Americans over the next four years.  
The Bengaluru-based company said the center will focus on Internet of Things (IoT), data science, and cybersecurity. By the year 2020, the center will be moved to its permanent location, a 60,000-square-foot facility, in the ASU Novus Innovation Corridor and would employ up to 500 people at the outset.
The new employs will be trained for up t0 six months in order to resolve the skill gap in the state.
Across the United States, the IT firm hired about 10,000 Americans fulfilling its 2017 promise by setting up nearly half a dozen technology innovation centers that include several labs, exhibiting new prototypes in virtual reality, augmented reality and robotic technologies and serves as a space to contribute to co-creation, training, and collaboration.
Read: Infosys 3rd Best Regarded Company in World: Forbes
Infosys is also aiming to use the facility for developing cross-functional solutions to pressing business challenges in domains such as machine learning, artificial intelligence, user experience and advanced digital technologies, such as big data and cloud.
Pravin Rao, the Chief Operating Officer at Infosys said the company's focus is on digital change driven by data, cloud, and experience is the foundation of its digital centers across the United States.
In terms of revenue, Infosys posted 12 percent growth in the last quarter, with its digital portfolio growing at a remarkable 40 percent.
By Sowmya Sangam