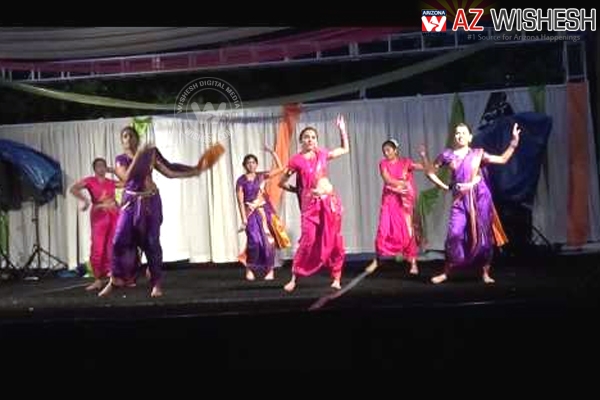 (Image source from: Big entertainment at Discover India 2015})
A big event by Indian Diaspora, Discover India 2015, is set to come from India Association of Phoenix on 1 November 2015. It would be a special feast this festive season for Indians in and around Arizona as they get to experience Indian art and entertainment as well. Several participants are all busy practicing for the much awaited event, which will be graced by renowned personalities and guests. The event would stage many classical performances as with film-based performances and folk numbers.
Performance by Naach dancing school
Members of Naach dancing school are immersed in practice for film based dance, as they rhythmically move their feet for Bollywood dance song Bawri Kudiya. The participants include Rathi Suhani, Suhani Patel, Shivani, Neha, Shruti Singh and Ashima Sood.
The event of Discover India 2015 would host many folk numbers one of which is folk dance for rangilo maro dholna by Roshni, Vedica, Shivani Vaidya, Saahithi Mallapragada, Aditi Galande, and Ria. There is a film based dance number for bollywood song ainvanyi ainvanyi by Shraddha Dwivedi, Shriya Dwivedi, Anjali Singh, Khushi Praveen, Bhavyasri suggula, Sai Idhaya Sri Suggula, and Nandini Warrier.
Khushi and friends come together for the Discover India 2015 event organized by India Association of Phoenix, to perform on Chudi Bhi Zid Pe Aaye Hai by Shraddha Parthasarathy, Jeytra Rajkumar, Shritha Harish, Ayesha Verma, Ananaya Suresh and Dakshinya Kamani. A group will also perform on Bollywood medley to cheer the crowd. Participants include Anusha Ramkumar, Rekha Rani, Deepthi Nimmagadda, Vanaja Lankalapalli, Swapna Banjapally, Rashmi Daram, Renuka Subbaraman and Lavanya Vallabhaneni. Audience will enjoy Yogchap patriotic dance by Uma Raghavendra, Sudha, Mukkamala, Malavika Gupta, and Abhijeet Beedkar.
- Sumana