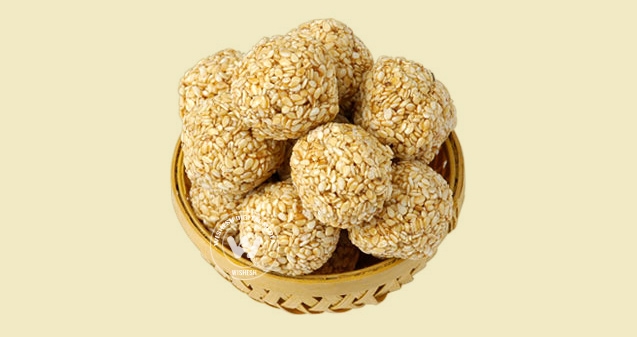 (Image source from: Crunchy sesame balls for Makar Sankranti)
Makar Sankranti might be a month away. But that shouldn't stop you from hoarding in as many recipes as possible so that you are left spoilt for choice for some of the best recipes when the time to make all the Sankranti goodies come. To help you get started early, we bring you the recipe of a traditional Sankranti favorite – til ladoos (sesame balls). And the best part, even you decided to roll some in advance, it would stay fresh uptil a month given you store them in vacuum jars. Read on for the recipe.
Ingredients:
1 small bowl of coarsely ground peanuts
1 cup jaggery
1 cup til (sesame seeds)
1 cup grated coconut
Finely chopped cashews and almonds
Cardamom powder for taste, some raisins and clarified butter (ghee)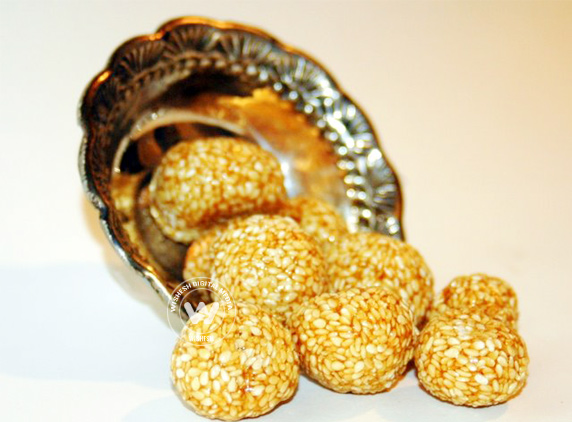 Method:
Roast the sesame seeds. Once they turn golden brown, transfer them into a bowl. Roast the grated coconut and transfer into the same bowl. To this, add coarsely ground peanuts. Add finely chopped cashews, almonds and raisins. Put some cardamom powder, according to your taste. Mix everything well. Finally, melt the jaggery with 1 tsp of ghee and add to this mixture. Mix well to make your ladoos.
Recipe Courtesy: Purvaja Savant
AW: Suchorita Dutta Choudhury