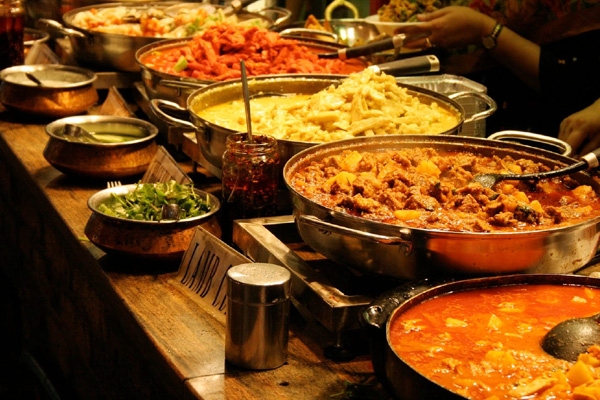 (Image source from: http://douglasbrain.com/)
There's no need to restrain yourself from having delicious Indian food in metro Phoenix since there are dozens of eating houses around the valley that specialize in a range of Indian cooking styles, from dosa to chaat.
With a variety of options, including buffets, the Indian restaurants around metro Phoenix bring spicy, aromatic, and savory curries, mixed grills, and more.
Below are 10 few restaurants offering pleasant-tasting Indian cuisine:
Lotus Deli
Location: 2043 South Alma School Road, Mesa
The specialty at Lotus Deli, a small-scale Indian restaurant, is Indian street food, with a focus on chaat - the wildly diverse, savory snacks, eaten across the Indian subcontinent.
Highlights include samosa chaat, which sees the crispy potatoes-and-peas pastry served with a rich, lightly spicy chickpea curry. Aloo tiki, another chaat, absolutely encapsulates the bold flavors of the popular street food. The chaat, layered with potatoes, chickpeas, and mint sauce, is equal parts savory, tangy, sweet, and spicy.
Nandini Indian Cuisine
Location: 1845 East Broadway Road, #101, Tempe
This modest restaurant offers classic northern Indian cooking, with its tandoori-style meats and thickly prepared, ghee-heavy curries, is the specialty at Nandini Indian Cuisine in Tempe.
The restaurant also offers a budget-friendly lunch buffet seven days a week. At it, you can fill up on everything from chicken tikka to palak paneer and bottomless mugs of chai tea.
You'll also find an intensely spicy lamb vindaloo curry, as well as an excellent rendition of classic murgh makhani or butter chicken.
Little India
Location: 1813 East Baseline Road, #108, Tempe
This eatery focuses on the Northern Indian snacks called chaat. It serves an extensive selection of the stuff.
There are options like pani-puri and aloo tikki chaat, which features grilled potato patties smothered in yellow peas, yogurt, tamarind, cilantro, onions, and other spices.
No matter what you order, don't skip the samosas dipped in the tamarind chutney.
Woodlands Vegetarian South Indian Kitchen
Location: 4980 West Ray Road, #10, Chandler
Though this, for the most part, undecorated spot in the middle of a Chandler strip mall might not gain any points on ambiance, but the food, friendly service, and plentiful selection of dhosa will certainly have you coming back again.
In addition, a complimentary chutney bar with pickled veggies, tamarind chutney, yogurt sauce, mint chutney, and coconut chutney makes for a new experience with every bite.
Hilal Grill
Location: 638 North 40th Street
Formerly known as the Tahoora Grill, this vicinity spot serves terrific Indian, Pakistani, and Afghani fare in an unassuming east side dining room.
Hilal Grill satisfies any cravings for familiar Indian restaurant staples, including classics like chicken tikka masala and butter chicken. Don't give a miss to Indian and South Asian specialties like shrimp biryani cooked with fresh herbs and spices, or the beef chapli kabab, a Pashtun-style minced beef kebab served with fresh veggies and herbs.
Khyber Halal Restaurant
Location: 4030 North 24th Street
This eatery serves standard picks like tikka masala and paneer, the homemade Indian cheese. It is preferable to dig into a giant platter of goat biryani, a rice dish that features sizable pieces of tender goat meat and heavily spiced basmati rice.
Chennai Chettinaad Palace
Location: 2814 West Bell Road
Though you can get all your best-loved go-to dishes in this north Phoenix Indian eatery, what genuinely sets Chennai apart is bartender Anthony Felsianes' cocktail menu.
The flavored martinis and new twists on classic drinks have one thing in common - a heavy influence of Indian flavors such as mango, coconut, and rose that pair nicely with spicy dishes. Plus, at $6 per drink, Felsianes' cocktail concoctions are some of the most affordable drinks around.
Marigold Maison
Location: 4720 East Cactus Road
The restaurant serves plenty of starters and shareable plates, including a section of street food and South Indian specialties. It is preferable to go with samosa chaat. For entrees, the selection spans many types of regional specialties including dosai, tandoori fare, and a classic selection of curries.
The Dhaba
Location: 1872 Apache Boulevard, Tempe
The Dhaba masters a playful balance of posh dining and Punjabi street food where you can have your pick of galore curries, puris, and pakoras, but the spicy, hearty lamb vindaloo is a must to order.
India Oven
Location: 5204, 1315 South Gilbert Road, Mesa
India Oven has been serving an extensive menu of Indian specialties for years. The restaurant offers lunch and dinner buffets, as well as traditional dining.
Relish the flavorful chicken tikka masala as well as the gentle, creamy shrimp korma, which features tender, plump shrimp swimming in a buttery sauce full of Indian spices. With a side of freshly baked naan, you'll be in for a satisfying meal.
-Sowmya Sangam