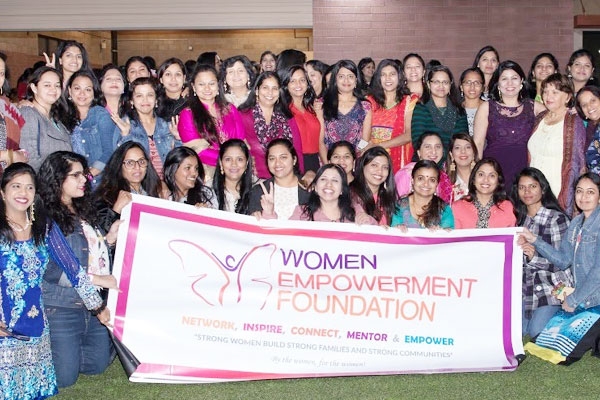 What is Empowerment? According to the World Bank:  "Empowerment is the process of increasing the capacity of individuals or groups to make choices and to transform those choices into desired actions and outcomes."

Empowerment is a process. Through the process, an individual becomes an agent of change. More simply put, it's the "can do" factor, going from "I can't" to "I can."

Foremost, it is a call to action to support girls and young women in self-actualizing their inner power - empower - to truly leapfrog women's empowerment. The next generation of empowered women leaders and change makers will transform our world.

Many charitable and non-profitable organizations have taken a step forward to empower women in different ways.  Empowering women in today's high -tech world requires more than a sewing machine or a chicken.

In 2016, Women Empowerment Foundation (WEF) started as a forum to support Indian Diaspora women in USA who are facing different situations with increased population recently. Since past three years WEF has been providing a platform for dialogue, support, network, and discussions, mentoring helping women resolve their issues. WEF's goal is to create awareness and provide much needed support related to family issues, domestic violence, immigration, along with hands on assistance/mentoring by professionals, subject matter expert women in the relevant field. WEF works and aligns with the UN's Women and its 17Sustainable Development Goals (SDG's) adopted by world leaders.
WEF has also come to recognize that many programs that aim to benefit women and girls may in fact reinforce their lack of power rather than empowering them. A focus on empowerment requires a shift away from seeing women and girls as beneficiaries of health and development programs to viewing them as agents of change for their own individual and collective empowerment. Beyond providing resources, Women must involve a process of social transformation, ultimately enhancing the control that women and girls have over their own lives.
The aim of the organization is to support women from various backgrounds and ethnicity and promote equality by putting women's rights at the fore front. The purpose behind WEF is to help women fight for what's fair and reasonable. Their efforts to help the women are ongoing. This non- profit seeks to support women struggling with difficult and life- threatening issues. It also provides women a safe environment to receive support and assistance with any physical abuse and other major circumstances in their life.

Also, this social enterprise has pursued the mission to connect, network, mentor and  works collaboratively to ensure safety and protecting women and girls by equipping skilled, local staff to offer free training, education, counselling sessions, career assistance and planning, financial and retirement planning to many women and their families. By providing economic, social and political opportunities women collaborate with other members in the team to save women from any inhuman and brutal treatment. Lastly, WEF is successfully able to facilitate better working conditions for the women by providing economic, social and political opportunities. The goal of this foundation is to create awareness amongst the community members by providing them a platform for emotional support, dialogues and free communication, strong well-knit support system and a well- organized network that helps to resolve all the major issues related to women.  WEF also conducted teleconferences in breast cancer awareness, women's health and organized health walks for diabetes awareness. 1000s of women are networked together helping each other quickly when needed connected through this foundation thus making a difference in the lives of women by way of mentoring in many areas empowering women.

To sum up, WEF is hosting its 2nd annual Conference on September 14th, 2019 at Indo-American Community Center in Phoenix -a conference to bring Women globally together. The conference aims to give a platform for a meeting of expert minds, global collaboration, empowerment and positive change. Ms. Kate Gallego, the Mayor of City of Phoenix and Mrs. Ratna Prabha, ex IAS officer and former Chief Secretary of Karnataka state will be presiding as chief guests.

Highlights of the conference will include rigorous panel discussions with renowned personalities, keynote speeches by the esteemed speakers, various workshops and experience sharing. It will also showcase what has been already achieved by WEF and its prospects to create and develop new networks and projects. The conference will also feature some of the brightest minds in education and business for inspirational discourses that will pave a way for clear takeaways about what a woman can do to change the world. There will also be delightful capacity building and mentoring sessions sharing their expertise in various fields. Last but not the least, people can enjoy scrumptious gourmet food, group games and other exciting activities. The conference will undoubtedly connect and empower women in Arizona and helping them realize their innate potential to reach great heights. So, let's all get together and make this Conference a big success! Please spread the word and help connect thousands of women this year through your expert story.

"Behind every Successful Woman is a tribe of other successful women, who have her back."


By-
Mrs. Gagan dhir
Educator