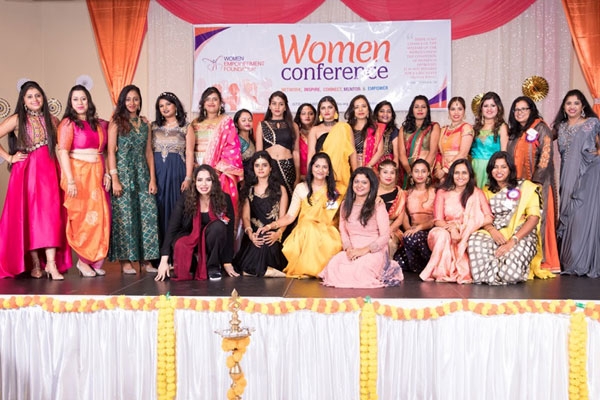 Everything you need to know how empowered we women are!
On September 14th, 2019, the Women Empowerment Foundation's (WEF) Conference was convened in Phoenix at Indo- American Community Centre. Hundreds of empowered women gathered under one roof to enjoy being connected, be entertained with quality programs, and discuss some of the intrinsic social concerns of women all around the world such as domestic violence, immigration issues, family problems, women's health, financial and retirement planning.
The theme of the WEF conference 2019 was - "Symbol of Strength".
The conference was presided by two accomplished and well-known  women - Kate Gallego,  Mayor of the City of Phoenix and Mrs. Ratna Prabha, former IAS officer and former Chief Secretary of Karnataka, India.

Both these capable  women, though from different parts of the world, seemed natural partners who embraced  shared values and common strategic interests.

The conference was inaugurated by lighting of the lamp by our esteemed Chief Guests Kate Gallego and Mrs. Ratna Prabha along with Board of Directors and Trustees of Indo American Cultural and Religious Foundation, distinguished guests and the Board of Directors of WEF- Lalitha Byra, Anita Wadkar, Sindhu Cherla, Elizabeth Panikulam, and Julie Lalwani.

This was followed by an inaugural dance by Shrimati Asha Gopal Ji's Arati School of Dance to praise and worship Lord Ganesha. The dance beautifully captured the spirit of the evening. The concept of "Women Empowerment" was highlighted throughout the rhythmical cultural performance. It portrayed the importance of recognizing and acknowledging every woman.

After the mesmerizing cultural performance, Kate Gallego, the Mayor of the City of Phoenix expressed her gratitude to be a part of this "Phoenix's largest-ever women empowerment conference" and how was amazed at how WEF has grown over the past three years. She  talked of the 6 month anniversary as Mayor of City of Phoenix and stated the fact that Phoenix is the largest city in USA governed by female majority. She felt extremely proud that Phoenix is the largest city in the United States governed by a female majority and females having executive positions as fire chief, police chief, and many more executive roles. The Mayor also hoped that people from the US one day follow the path of women leadership of India. Mayor Gallego appreciated and acknowledged the work done by WEF so far to solve many issues pertaining to women and trying to empower them. She  urged the avid and ardent audience of women from different strata of life to do their research, ask for compensation and deserved raise in salary. She ended her speech on a positive note on attending more conferences in the near future and thanking everyone for doing the best for city of Phoenix. Her presence made an everlasting mark on the minds and hearts of people from Phoenix. In her personal interview session with Mrs. Gagan Dhir, an educator, Mayor Gallego alluded to  wanting  the city of Phoenix to be a place where women can succeed in all the fields, and reassured that she was trying to close the gender pay gap. In the end as her last piece of valuable advice, the Mayor urged all women "to follow their dreams".

Health panelist experts, Dr. Padma Tummala, Obstetrician- Gynaecologist, Dr. Padma Aking, Psychiatrist and Dr. Sarah Patel, Pulmonologist discussed on the topic of   " Stress Management and Well Being" for women. This discussion was moderated by Ms. Subha Ekambaram. The doctors shared valuable advice on how to cope with stress levels in today's busy and hectic day to day life. All the experts stressed the fact that we need to be assertive instead of aggressive and keep a positive attitude. Also, we need to learn and practice relaxation techniques such as Yoga, exercising and meditation for stress management. Having a balanced and healthy diet is the mantra for a stress-free life. The opportunity to hear first-hand experiences and suggestions from all the three panelists was inspiring and brilliant.      

Traditionally, dance has always been an integral part of the rich heritage of India. It plays a crucial role to present India at the forefront of the World stage. Dance performance by Bollywood Dance Central's Rajsri and Kayva showcased India's rich cultural heritage.           

The famous self-defense Instructor Mr. Jui Chui, a former Army specialist and CPS Investigator presented a breath -conducted a session on the need for self- defense and provided pointers for women to protect themselves.   Mr. Chui  modelled how to fight off an attacker with a Kubotan and everyday objects, like a sharpie or marker. The purpose of this self- defense class was to make people aware of their surroundings and teaching them how to be safe. Mr.Chui asserted that anyone could easily learn these life-saving defense skills and take control, and avert a threat.

After the cultural performance and the self - defense class, the stage was all set for Mrs. Ratna Prabha, the chief guest, to inspire and encourage the audience with her motivational speech. Some of her words still resonate among us.
Every woman is a symbol of strength, and women are already strong.
According to Mrs.Ratnaprabha, every woman is a role model and a game changer. She also greatly expressed her serious concern about the fact that women are not only subject to domestic violence in India but also in a country like USA. In her speech she emboldened the women present in audience to-
Give back something to the society and make a difference
Smt. Ratna Prabha also shared her own personal experiences where she made a difference in someone's life and proposed the audience to mentor and nurture more leaders in life. According to her, we need to continue helping people and form a chain to help more and more because-
A helping hand is better than a praying hand.
Lastly, she urged all the beautiful empowered women in the audience to repeat together-
I am because you are, you are because we are, and we are because you all are.
Her inspirational speech left everyone spell bound, and she received a standing ovation. Mrs. Ratna Prabha also mentioned in her personal interview with Mrs. Gagan Dhir, that the real mantra to balance both personal and professional life is to develop time management. She  encouraged women to pursue the "Chain of help" and support other women in our life. With her strong words, she wished for every woman to be successful and for everyone to appreciate the success of women.

WEF acknowledged and recognized the amazing works of three empowered and inspirational women of Phoenix- Mrs. Manju Walia, the founder and CEO of Asia Today Arizona, the leading Asian newspaper in the valley; Dr. Padma Tummala, the famous Obstetrician and Gynecologist; and Mrs. Minaxi Patel, magnanimous Trustee of IACRF who had been a source of inspiration to many in Phoenix.  

A powerful and innovative Fire Side Chat "Empower Yourself" by Sindhu Cherla, Program Manager at Google, CA and Sapna Patel, Learning Strategy Consultant awed the audience as they shared their experiences & beliefs as they navigated through their journey of having it all - Home, kids, and A CAREER.

Multiple breakout sessions by subject matter experts provided practical and beneficial insights which were hugely appreciated.
Dr. Padma Tummala conducted a session on the topic "Fat to Flat" giving valuable suggestions and tips on how to lose weight. It was an intriguing session wherein women got tips on how to work out on their bodies and have a healthy, nutritious life.
Another alluring session was on the topic. "Unleash your inner Glam: Aesthetics and Wellness" by Preeti Sanga who talked about the various Anti-aging techniques for the modern Indian woman.
Shilpa Godiwala shared with the group ideas on how to make your business ideas into reality. The topic for the group discussion was "Be your own boss: Ins and outs of starting a business". 
Sindhu Cherla and Sapna Patel who strongly believe that women should stand up and hold their head high had a session on "Empower YOURSELF! Don't undersell yourself".
DR. Meghna Thacker pondered upon ways to deal with growing thyroid and discussed on the topic "Healing your body inside out: Naturopathic Medicine - Healing Thyroid and Hormonal Imbalance ".
In today's world, we as strong women need to find ways to become a strong leader in our lives. Arthi Perka, who flew from CA for the conference, shared her views on the topic "How do you want to Lead? How to Become a Purposeful Leader - Leadership Coaching" which was quite enlightening for the people on board.
Cidney Washington and Norma Gutierrez from Tek Systems, a leading industry leader in Technology Services, played an important role in having a session on "IT Career Guidance" that would help women in long run in moving ahead with their careers in IT industry.
Also, we all strongly believe that it is imperative to dress professionally to gain confidence and respect in our workplace. Gina Desai had a session on the topic "Dressing for Success".
Dr. Padma Aking talked about some of the ways that we can incorporate in our daily lives to lead a stress- free life. Her topic of discourse was "Living and staying mentally healthy".
Neha Malik a marketing executive who has been helping people and businesses grow had an informative session on the topic "Take your business to the next level - Learn all about digital marketing!"
All of these round table sessions provided a forum for interaction and an opportunity to connect with people.
The conference ended on a stylish note with the grand fashion show organized by Ms. Priyanka Khaitan and her phenomenal team of many empowered women- comprising of entrepreneur, an educator, a home maker, a professional, and women accomplished in many other areas!

From the beginning of the conference till the end, varieties of starters, snacks, tea and drinks to the lavish spread of scrumptious dinner was organized and served by "Paradise Biriyani Pointe".

Thanks to all prime sponsors, sponsors, raffles sponsors, giveaway gift sponsors, food sponsor who supported WEF's mission. A special thanks to IACRF who is the key supporter of the conference and WEF.  WEF would like to thank all the volunteers and organizers of decoration, registration, entertainment, panel discussions, breakout sessions, games, raffles and gifts, food, social media, print media who worked tirelessly for more than two months to make this event a grand success!

It seemed like every woman who attended the conference felt connected, motivated and  empowered as they headed home after an evening of entertainment and inspiration.

Women Empowerment Foundation (WEF) is an agency to empower women by increasing awareness in women's health, providing assistance to domestic abuse victims, and supporting families with special needs children & promoting skill enhancement through various workshops, seminars, mentoring and networking events. Women Empowerment Foundation can be reached at This email address is being protected from spambots. You need JavaScript enabled to view it., 623-688-1405 or http://www.wefus.org.

Let's continue to get together and  empower ourselves and those around us.

The following verse truly captures the message of WEF.
Here's to strong women.
May we know them.
May we be them.
May we raise them
By-
Mrs. Gagan dhir
Educator